Revlon Jean Nate After Bath Splash Mist 8 oz
050905
---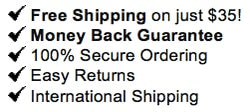 ---
Jean Nate has been pampering your skin since 1935. Revlon Jean Nate After Bath Splash Mist is a timeless classic scented splash is an all-over body refresher. Let the feminine blend of citrus, spices and floral scents perk you up every morning before you head out or every night before sleep. The alluring, luxurious splash will leave your skin soft and silky. Feel fresh and clean all day.
Refresh senses with sheer fragrance.
Clean and fresh feel.
---